Understanding the New Secure Access Code Process
Secure Access Codes are one of the new features of the upgraded digital banking system. A Secure Access Code (SAC) is an additional security measure used to verify your identity when logging into your account for the first time from a new device. Using your information on file, you will choose whether to receive a text, phone call, or email with a 6-digit code that you will use when logging in. This SAC proces
s is an exam
ple of why having
updated customer
contact information on file is important.
Don't worry - if you have trouble with your SAC during the login experience, give us a call and we will be able to help! 
NOTE: This SAC will not be required until the new system goes live on March 3, 2021. Secure Access Codes will not affect the

current

online banking login process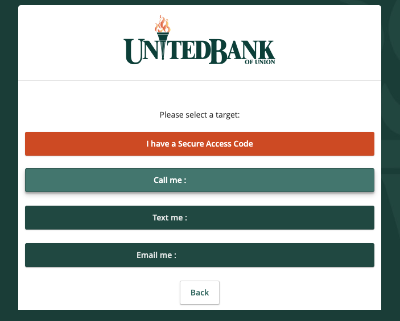 Helpful Hint: Update your contact information prior to March 3, for quick & convenient access to the new Digital Banking System! Head to our Update Customer Contact information page to learn more. 

Tips and FAQs Relating to Secure Access Codes (SACs): 

Your Secure Access Code will always be delivered by UBU's Alert Phone Number, #86434. 
- The SAC itself will always be a six digit code found in the body of the text. 

Secure Access Codes are valid for 60 minutes.
- This means you will have 60 minutes to request your code (shown in the snippet to the left) and to enter your code.

What if my information displayed is outdated & none of it is correct? 
- Contact us at 636-583-2555 and we can help log you update your information to log in.

What if one piece of information is correct, but the others are incorrect?
- Select the SAC target that has correct information that you can access to retrieve your code. Then, continue through the login process until you successfully log in to your account. Once there, use the left-hand menu and go to Profile > Security Preferences > Secure Delivery and update your contact information for Secure Access code delivery.